Flo and Rocco discovering Albania on one wheel
Two years ago, Florian Kaiser and Rocco Schulz planned an even much bigger trip, due to political unrest and riots, they had to change their plans – and made a great trip through Albania – supported by QU-AX. Here's their story – and video:
"What day is it?"
I could not answer Flo's question. We had turned off our phones for a few days to spare the battery. There was not much perception outside of the small villages anyway.
"I have no idea, maybe Friday?"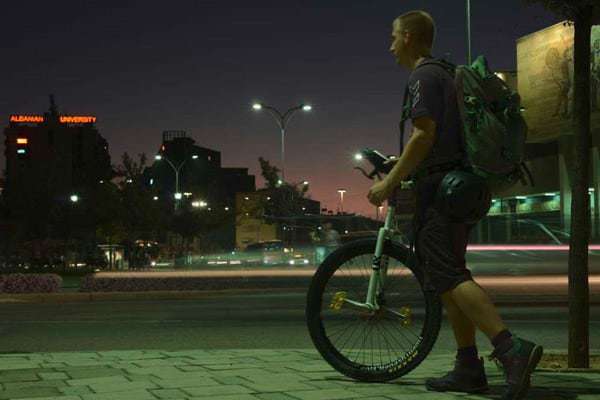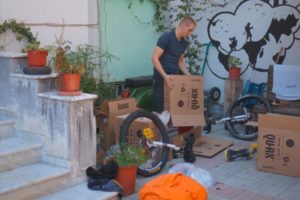 We had totally lost track of time after we left Tirana, the capital of Albania, and it didn't matter. We had everything with us that we needed: Mountain unicycles, hiking boots, food supplies, sleeping bags. Only later did we notice that we had forgotten something.
Tirana was the first stop of our journey. We carried six standard Qu-Ax unicycles with us when we arrived at the backpackers in Tirana. The unicycles proved to be quite popular amongst the children and youth during a workshop that we held in front of the Tirana University. The unicycles were generously provided for free by Qu-Ax and after the workshop we gave one to a very talented boy as a gift and three of them remained at the Backpacker Hostel Tirana where travelers and the hostel staff can give it a try. We strapped the two remaining 20″ unicycles on our backs and continued northwards to our actual destination – the Accursed Mountains.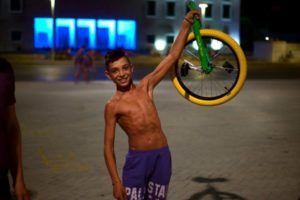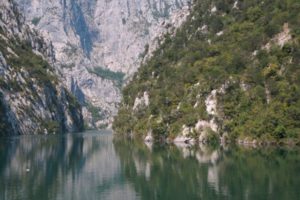 We chose the route via lake Koman, and we probably could have made it to the other side of the lake the same day, but
due to a misunderstanding we got off the bus too early, had to ride an additional 30 km and wait until the next morning to catch the next ferry to Fierza, from where we took another bus to Valbona.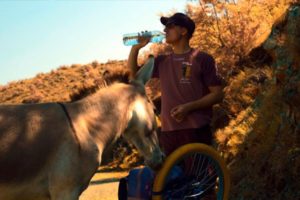 The ferry ride over the lake, which is an artifical lake formed by a dam that was built in the 1970s to generate electricity, took us through a beautiful landscape while revealing one of Albanias big issues: Waste. Plastic bottles, packaging and much more was floating on the water's surface.
We donated the remaining standard unicycles to the school in Valbona, which was closed due to summer holidays at that time. Glad to be freed from the additional weight of the 20″ unicycles we started a two days hike over mainly unridable terrain. The slope up to the first pass did not offer a single patch of ground which wasn't at least 30° steep and thus, urged by the sudden darkness, we had to make ourselfs comfortable on a rocky slope.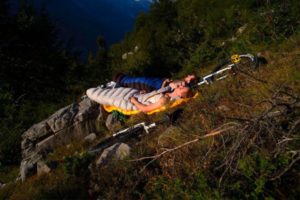 The next day's hottness was accompanied by dry air which stood still above the sunlit, rocky ground. Our water supplies only lasted until noon and all springs and streams which we passed were just as dry as our throats. However hours later we were rewarded with fun trails and eventually a stream that had not been dried out yet.
We spent the remaining days with further hikes in the Valbona and Thethi region. Both valleys are connected with a trail that is used frequently by tourist groups. We figured out that questioning locals about trail difficulty does not help much to assess ridability of trails. However it seems, that riders on horseback are a good indicator for fun trails.
With our baggage stripped to a bare minimum and days of sweat and dust, we smelled like sheep after a few days. The Valbona river served us well to wash off all that dirt. The T-Shirt which I wore has never gotten back its original colour though.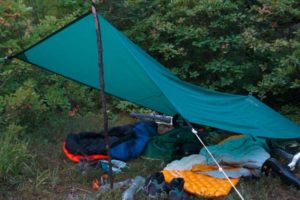 We didn't encouter any technical defects, but after one week in the mountains it became obvious that we did not have enough cash with us. We falsly assumed that prices for food might be similar to those that we saw in the capital and thus had to live on bread and a small amount of honey for the remaining days – and yet it was one of the best trekking tours we've done so far.
Fotos and Story by Florian Kaiser & Rocco Schulz, find more at www.campfire-movies.com